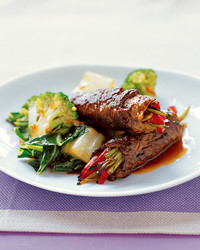 I asked a question on our Facebook page last evening about what to cook dinner Liz as I had the entire day without work. Take away from the oven and let the meat lest for 10 minutes before carving. After placing all the mushrooms into the meals processor, I added some salt and pepper and a tad of garlic and cooked these in a little bit of olive oil until many of the liquid was gone. I splashed a bit of white wine into it as an afterthought and continued to cook it down. Chef's Word: I like to add roughly 2 tablespoons of sherry vinegar to the mushrooms so as to add a little bit more taste during cooking. Simply prepare dinner until vinegar fully evaporates.
Add olive oil to pan after eradicating beef. Add shallots, garlic, and thyme; saute for 1 to 2 minutes, then, off heat, add brandy and flambe utilizing a long kitchen match. After flame dies down, return to the warmth, add inventory and scale back by about half. Strain out solids, then add 2 cups cream and mustard. Cut back by half once more, then shut off heat and add inexperienced peppercorns.
Add potatoes, rosemary, sage, thyme, and garlic to a medium bowl. Drizzle with olive oil, and season with salt and pepper. Take away sheet pan from oven, flippantly coat with olive oil, and pour potatoes onto pan. Place potatoes in oven and cut back heat to 425 levels F. Roast for 20 minutes, or till crispy on outdoors and tender on inside. Tightly roll the Wellington in three layers of plastic wrap. Refrigerate for 1 hour.
In a medium saucepan soften the butter over medium heat. Add the shallots, garlic, and a pinch of salt and cook dinner, stirring occasionally, until fragrant, about 4 minutes. Stir in the mushrooms and rosemary, then add the white wine and prepare dinner, stirring, until the wine evaporates and the mushrooms have turn out to be rehydrated, 2 to 3 minutes. Let cool for a minute, switch to a blender, and blend right into a paste, including a drop of water if wanted to get the combination going. You want it to be spreadable, not pourable.
AKA the duxelle, this combination of mushrooms, shallots, and thyme is SUPER savory. As if beef tenderloin wasn't bringing sufficient umami, this mixture takes it to the next stage. Phrase to the clever: don't attempt to velocity up the cooking process on this one, you realllllly wish to prepare dinner out as much of the moisture as possible. Should you do not, the mushrooms will proceed to lose moisture if you're baking the Wellington, which might result in a soggy backside.